References
My clients include:

Federal authorities
Federal ministries
Ministries of the Federal States
Business corporations
Consultancy firms
Courts
International institutions
Industry and similar associations
Pharmaceutical companies
PR agencies
Think tanks, educational foundations and similar institutes
Universities
etc.
Please don't hesitate to request my list of references.
Education and training

Regular participation in seminars on law, marketing, finance etc.

| | |
| --- | --- |
| 2015 | Russian language seminar, Timmendorfer Strand, "The changing Russian language" |
| 2013 | Russian language seminar, Timmendorfer Strand, "Society and language in Russia" |
| 2011 | Russian language seminar, Timmendorfer Strand, "Linguistic etiquette in the Russian-speaking world" |
| 2008 | Heriot-Watt University, Edinburgh, England. Intensive refresher course in Conference Interpretation |
| 2004 | Rostrevor, Northern Ireland. Refresher Course for Interpreters |
| 2002 | Exmouth, England, Refresher Course for Interpreters |
| 1999 | St. Catherine's College, University of Cambridge, Cambridge, England, Intensive refresher course in Conference Interpretation (for English and Russian) |
| 1997 | Organisation of – and participation in – a seminar staged by the Konrad Adenauer Foundation at Berlin-Schmöckwitz as an intensive briefing on political issues and sensitivities specially for interpreters |
| 1995 and 1994 | St. Catherine's College, University of Cambridge, Cambridge, England, Intensive refresher courses in Conference Interpretation (for English and Russian) |
| 1993 | St. Thomas´s Hospital Medical School, London, England Course in Medical English for Interpreters and Translators |
| 1991 | International Seminar on Court Interpreting, Vienna, Austria |
| 1991 | Workshop for Court Interpreters and Translators, Duesseldorf, Germany |
| 1984, 1983, 1982 | Further training for conference interpreters |
One academic year at the renowned Foreign Language Institute "Maurice Thorez", Moscow (now: Moscow State Linguistic University)
Graduate of Leipzig University, Department of Theoretical and Applied Linguistics, field of study: interpreter (Russian and English) Degree: University Diploma in Interpreting and Translating Russian and English
Additional information

| | |
| --- | --- |
| 2009-07 | Initiation and organisation of a jour fixe for conference interpreters in Berlin which was continued by colleagues every two months until the start of the Corona pandemic in early 2020. |
| since 1995 | Member (full VKD member) of the Professional Conference Interpreters Association in the Federal Association of Interpreters and Translators (Verband der Konferenzdolmetscher im BDUE, VKD-BDUE) |
| since 1991 | Sworn interpreter and translator to the Berlin law courts and notaries public appointed by the President of Landgericht Berlin (Berlin Regional Court) for Russian and English |
| since 1990 | Sworn interpreter and translator to the law courts and notaries public of the Federal State Hesse appointed by the President of Landgericht Frankfurt/Main (Frankfurt/Main Regional Court) for Russian and English |
| since 1990 | Member of the Federal Association of Interpreters and Translators (Bundesverband der Dolmetscher und Uebersetzer, BDUE) |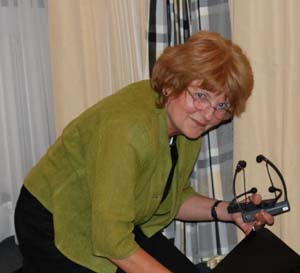 End of the "Deutschlandseminar for experts in communication", September 2009